Spring is nearly gone and we are ending a period with new projects and a new direction in the activity of the Clean Wood CO2 association.
This year we resumed the educational projects that support the planting of trees and fruit trees in schools in Mureș County. We launched the project entitled THE GARDEN IN THE SCHOOLYARD – "Education for sustainability: the garden as a pedagogical resource for sustainable development."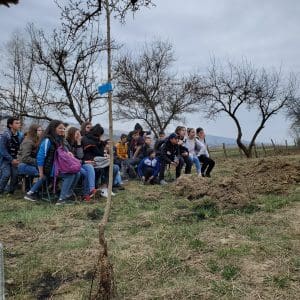 With the support of the English teacher, Maria-Olivia Tătar, we started a collaboration with 3 schools from Mureș County: Hodac Secondary School, Valea Largă Secondary School, Zau de Câmpie Primary and Middle School. The students of the 3 schools participated in the planting activities together with their teachers and enriched the schoolyard or orchard with forest trees, trees, and fruit bushes.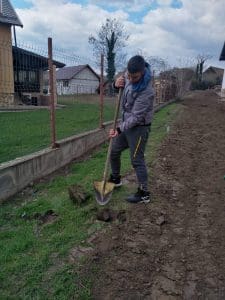 For this first project, 100 walnuts, 30 lindens, 100 fruit trees, and over 50 shrubs were planted. The above-mentioned schools through the official representatives and teachers involved will take care of the seedlings planted for a minimum period of 5 years. Thus, every year, the project supervision team will send a written report with pictures in electronic format in which information related to evolution and news appear. If you are a kindergarten – primary school teacher and want to implement a similar project you can write to us at email cleanwood.org@gmail.com.
This spring brought us together at Vintage Expo, an event that aims to offer participants alternatives of responsible consumption, encouraging the exchange of second-hand and vintage clothes. The fast fashion industry is responsible for 10% of global CO2 emissions. Fast fashion means cheap, very little used clothing that is quickly produced by retailers, promoting many trends to buy regularly. Moreover, fast fashion uses many materials that pollute the environment and uses labor in unfair conditions.
Buy less, choose well, make it last." – Vivienne Westwood
The last four months have been intense for the Asociatia Clean Wood. We are starting a new chapter, we are excited about the new 10 ha plot of land in Batoş, Mureş County. It is a damaged walnut orchard, which we want to rehabilitate. This is a larger project with a lot of resources involved, and we need your support to complete it.
Remember that you can support our business whether you are a company or a natural person. Now go to https://cleanwood.org/magazin/  and choose the right package:
Adopt a tree! – donate the value of a tree, and we will plant it and take care of it to grow. We plant it, maintain it, and protect it until it grows enough to take care of itself.
The Climate Package – with this package you can offset your annual CO2 emissions. With the help of an online CO2 emission calculator you can calculate your personal CO2 footprint by entering the required information on the type of fuel used for heating, electrical appliances used, consumption habits, etc.
Baby Pack – Welcome! The birth of a baby is a moment of great joy. Now you can "Welcome!" him/her and surprise them with an environmentally friendly gift.